Powered Tripod Hoist and Quad Pod Hoists
Features:
Designed to lower personnel into confined spaces, such as
bin, silo, or man hole entry
We offer three standard tripod sizes and a quad pod design
Easy setup and lightweight
System includes air- or electric-powered "Spirit" Hoist, frame,
wire winder and wire rope with 175 ft. of travel
Models Available:

Air
139-299 Extra Small Air Powered Tripod
139-301 Small Air Powered Tripod
139-303 Medium Air Powered Tripod
139-305 Large Air Powered Tripod
139-307 Air Powered Quad Pod
Electric
139-298 Extra Small Electric Powered Tripod
139-300 Small Electric Powered Tripod
139-302 Medium Electric Powered Tripod
139-304 Large Electric Powered Tripod
139-306 Electric Powered Quad Pod
Hoist Specifications:
Speed: 35 F.P.M.
Capacity: 1000 LBS.
Air: 100 PSI @ 60 CFM
Electric: 120/240 VOLTS
Travel: 175 FT.
Hoists are U.L. Classified Standard, but not limited (longer available)
Optional Add-Ons:
See Tripod accessories brochure 139-102-175
Manual Personnel Winch – 175 ft. travel
143-600 18″ Round Basket
143-610 24″ Round Basket
143-620 16″ Round Basket
143-630 22″ Round Basket
143-085 (Quad Pod Only) Mast Supported Basket
We offer DBI 3 way retractable lifeline
4154 Bosun Chair 18″ OR 24″
KIT-007-03 Lifeline Bracket
Ask about the electric pendant control (KIT-006)
Special designs to meet your specific applications
Product Specification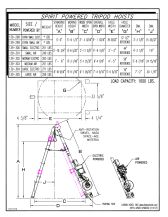 Tripod Spec Sheet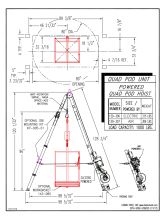 Quad Pod Spec Sheet
Product Description
Used for bin hoist, silo hoist or man hole entry.